St. Anna's Church in Tyssa
The church of the HL. Mother Anna was built in 1789 in the Rococo style. Standing at the foot of the Tyssaer walls, she has "experienced and survived a lot in the over 200 years." Until our expulsion from the beloved homeland, she was not only for the population of the place, but also for the numerous guests and tourists who visited the formerly known "health resort" visited, a coveted attraction.
After 1945, the construction of this church began, because the roof leaking and the sewer system was broken. Only in 1991 was an urgent reconstruction begun. The craftsmen found in the roof and tower work on the tower ball in a soldered box a message from 1926 to commemorate the then completed renovation of the church. Former pastor Johann Wiesinger had written it. She receives interesting explanations about the repair work carried out, the names of the participating construction companies and craftsmen as well as a list of donors, as the available funds were insufficient. The text of these interesting documents was taken from a Czech journal in August 1991. I was proud when I read the names of these 27 donors,
After we had already stood in front of a closed church portal during some visits to my old hometown and could only see the building materials stored there through the iron lattice door, in August 2000 we were lucky enough to be able to enter the church outside the opening hours. In preparation for Sunday Mass, a local resident cleaned the inside of the church and decorated the altar and side altar with flowers. It enabled us to visit the church in peace and take pictures. I was pleasantly surprised to find the interior of the church as it was in my memory. The condition of the organ that I saw when climbing the gallery, however, suggests that she had run out of air. The two ancient confessionals, which are now left and right next to the main portal, you can see her probably 200 years old.
 It was an interesting experience for us after 55 years to see the church from the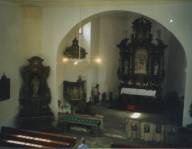 inside and in good condition and to be able to capture it in the picture.
Harald Richter
Rostock