The cinema in Tyssa
After the newly built school opened its doors in Tyssa at the beginning of the 1930s and the students from the old elementary school (house no.214) were able to move there, the cinema was built on the site of the old elementary school. For the students of the older vintages (eg 1921 and 1922), who in the years before had to go to Peterswald temporarily the school there in "wind and weather", was now also the difficult way to school there until there.
Finally our place got its own cinema, while otherwise the nearest one had to be visited in Königswald. The cinema, including the adjoining rooms (box office, kiosk sales, cloakroom, sanitary facilities), was modern equipped and the cinema technology offered a flawless film screening. The walls of the movie theater, the boxes, and the balcony railings were clad in reddish, silvery-draped velvet. It was alone from the view offered by each visit to the cinema an experience.
In addition to the pleasing film visits, however, there were also serious events there with the beginning of the war. Thus, in solemn form, the fallen sons of the place were honored in the presence of their family members and the population of the place.
The pleasant but also the sad memories of our popular cinema will always be preserved.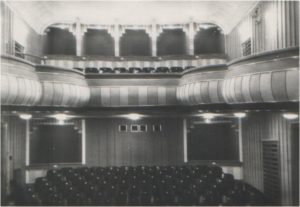 Our cinema in 1942