Welcome to Oberwald !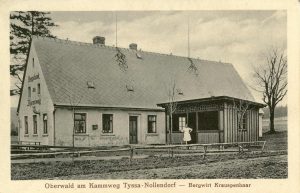 The "Berg-Schänke" in Oberwald
I found desolate woods and meadows,
only now and then old tracks.
Thoughtfully I stood there too,
when I saw only rubble in the beeches.
A lively life was often around the "Bergschänke"
when the sun was shining and the sky was clear.
The hikers sat here in
droves and feasted on bread, milk and beer.
For the children, there was a shower of cups quickly,
because it lured swings and carousel.
Under the roof there was also a bowling alley, and
there were some 'Kruglein Herr Krauspenhaar!
And again and again the "Kammweg" along
came new groups with happy singing
and also settled down thirsty! –
– Will these times ever return?
Willibald Bail,
Garbsen 
(Written after my visit in May 1973)